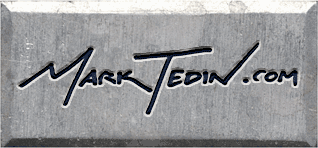 ---
11/4/02----Well, the article by Toby Wachter is up!
http://www.wizards.com/default.asp?x=mtgcom/feature/103
It was done at the Worlds Championship in Sydney, Australia (oy!) a few months ago. This explains the jet-lagged haggard appearance. Sorry to subject you to that. I was tempted to submit a picture from four years ago, but I figured that would be cheating big time.
I tried to get my new website ready before the publishing of the interview, but messing around with HTML (yeah, I'm attempting to do it myself, I'm mad I tell you...) has proven more difficult than I thought. I'm testing the pages right now, and getting it to flow properly so you won't be stuck in linking hell is paramount. The graphics are minimal for now (excluding artwork), but it should work okay. Crossing my fingers.
Oh yeah, I've had an illustration published recently in the Spectrum 9 science fiction and fantasy annual, which should be out this month. So if you're near a bookstore, check it out!
-MT
6/6/04 --Ignition key turned! The engine is turning over and coughing! I purchased a copy of Dreamweaver and it's helped immensely. Trying to code manually had proven too much of a bear to getting any real progress on the website done. At some point, I may hire a professional, but I wanted to get the first round done myself.
The new webpage is "up", but definitely not "launched". There are a whole bunch of links missing (or left intentionally blank), some navigation graphics are useless or missing (use the text navigation instead), but there's a full list of Magic:The Gathering cards and other card games, which is handy.
In addition, the pages with full JPEGs of most of the Magic work since 2001 are up and running. There are indications of sketches and details, but those are unfinished and will remain greyed out for a while.
I haven't tested it with a dial-up connection yet, but the pages are guaranteed graphics-heavy for now, so be warned.
-Mark
6/8/04 --I've updated the website's fonts to Verdana, hopefully a little easier to read, saving a little bit of room to boot. Put some links to relevant companies on the Art List pages as well. Many companies like FASA don't exist any longer, so I've used pen-paper.net, an excellent and thorough database of role-playing games.
6/8/04 --I will be attending the Origins game convention in Columbus, Ohio this year from the 24th to the 27th of June 2004. I will likely be at the Wizards of the Coast booth, and will have some pieces to exhibit in the art show, as well as some prints available. I've got my signing wrist warmed up, and hope to see some of you there! More information is here.
Found out that I've had some concept art pieces about Eberron (the upcoming D&D release) in a couple of issues of Dragon Magazine. They were in issues #311, 315, 316 and 317. Wizards has a few webpages (1, 2) devoted to the new Eberron setting.
6/10/04 --The cards from Invasion, Prophecy, Nemesis and Mercadian Masques are now up.
An interactive map of Sharn, one of my city designs for the D&D Eberron setting is up at the Wizards website.
I've peppered the site with a few more links, mainly to articles on the Wizards web site; sketches, info and whatnot.
6/11/04 --The Urza's Legacy and Urza's Destiny pages are up.
6/28/04 --Well, the Origins game fair this weekend went pretty well; lots of cards were signed, and two pieces that I submitted to the judged art show won first place in two categories! Enormous Baloth won as Best Fantasy piece, and Eater of Days won as Best Science-Fiction work. Sci-fi you say? I guess the metallic, chrome aspect put it over there in the judges mind. Plus, I forgot to indicate that it was a Magic card to begin with.
I also had many of my early Ice Age and Arabian Nights expansion artwork exhibited too, many people were surprised that I had so many pieces up (29 in all). I must admit, I haven't put much art up on walls these past few years. From now on, I'll have to bring more original art to cons. :)
The Urza's Saga pages are up.
Also, a new Eberron art gallery is up at the Wizards site, featuring some of my color digital pieces from this first book of the new D&D campaign setting.
7/03/04 --I will be attending the Seattle Pro Tour next week, for card signing. I'll be selling prints and other stuff, too. It will be at the Seattle Convention Center from Friday the 9th to Sunday the 11th. I haven't received info on times I should be there, but I'll try to post that before the event. Other artists attending will be Martina Pilcerova, Anthony Waters, rk Post, Darrell Riche, Rob Alexander, Pete Venters, Brian Snoddy and Sam Wood.
I also did some housekeeping and updated the Browbeat, Ashen Fire Beast, Dismantling Blow, Scorching Lava, Belbe's Portal, and Defense Grid pages.
The Weatherlight and most of the Alliances pages are finished.
7/04/04 --Happy 4th of July! Nothing like celebrating your country's 228th birthday than checking out finished Homelands pages! Okay, that was just lame ;).
7/05/04 --The Ice Age pages are now up.
7/09/04 --Found out that I will be signing at the Seattle Pro Tour event in the morning slot today, Saturday and Sunday. 10am-1:30pm. Sorry for the last minute update!
So far, so good. I ended up staying all day until 5:00pm. My good friend Anson Maddocks also made an appearance today, loaded with lots of prints, artist proof cards and originals of his own for selling. He hasn't attended many signings in the past few years, so come on down and get your stuff signed while he's around! Admission to the event is free; and more surprise artists may be coming in tomorrow (the "busy day", some predict).
7/12/04 --Well, it was fairly quiet at the signing table this weekend, but considering that I wasn't one of the regularly scheduled artists, I imagine a lot of people who travelled far for the Pro Tour couldn't have known I'd be there. Still, there was a lot of buzz Saturday morning when I unearthed a lot of my old Collector's Edition artist proofs that've been sitting in the bottom of a box untouched for the past ten years. (Square cornered, white backed, based on the Beta print run of Magic, 16 different cards)
I plan on making this very unique collection more widely available on my website soon (with more accurate prices); perhaps putting them on eBay. I first need to figure out how PayPal works. Stay tuned.
Made some minor adjustments to text all around the site today, and added a blurb to Rathi Fiend. I also activated the Links and Credits pages.
7/16/04 --I will be signing cards tomorrow at Olympic Cards and Comics in Lacey (near Olympia), Washington from noon until three. I'll be bringing prints and artist-proof cards to sell as well. Also scheduled to appear are Phil and Kaja Foglio, Heather Hudson, Sam Wood and Quinton Hoover. Directions to the store are here. C'mon down if you missed getting anything signed last weekend!
Updated Credits and Links pages.
7/20/04 --The Fallen Empires pages are now up.
8/01/04 --I submitted a sketch for Zur's Weirding, this week's Magic 9th Edition Sketch Vote. My sketch is up against rk Post's design, so please go over to take a gander and pick your favorite one!
8/24/04 --Want to hear about the first Gen-Con I experienced, way back in 93? There's a full write-up by Monty Ashley about the con at the Wizards website. Go there and get a sense of what it was like back then. Lotsa Moxes being thrown about without sleeves....
9/15/04 --Sorry this is so last minute (I found out not too long ago myself), but I will be attending the Champions of Kamigawa Prerelease event in Boston this weekend. The event is Friday, Saturday and Sunday and more details can be found at the Your Move Games website. I will be signing cards Saturday and Sunday (sorry, no original art from Kamigawa returned from WoTC to show off yet), and selling prints and other assorted merchandise there as well. I don't know what my hours are going to be yet. Looking forward to seeing some of you there!
@ Bayside Expo and Executive Conference Center
200 Mount Vernon St., Boston, MA 02125
call Rob Dougherty (617) 666-5799 for more information.
10/10/04 --Wow, it's been over six months since I opened the website, and despite a relatively busy first three months, I don't seem to have done too many updates since then. Well, I'll try to take care of that; the first of the Kamigawa sets is out (two weeks ago!), so here are the Champions of Kamigawa pages "unlocked" and waiting....
Also, a word of apology to the people who were waiting for their cards to be signed in Olympia last weekend. I didn't show because my calendar on my laptop hadn't been updated from my calendar on my desktop machine (shut down for repair), so I spaced on the event. I'm really sorry for not coming, next time I'll write it on my forehead so I won't forget.
11/03/04 --Lame, real lame. Four more years...yipee.
11/11/04 --I will be signing cards this weekend at TableTop Games in Lakewood, Washington (near Tacoma) from 1pm to 5pm this Saturday (13th). The address is 2510 84th St. S STE D22. It's a BBQ event, so come on down and snack out while you get your stuff signed! Many other artists from the region are coming as well. A map is here. (Thanks to the Tacoma Chess Club for the map. Their website has more info.)
12/2/04 --Some pages from The Dark expansion set are up!
4/19/05 --Just popped in to say hello. I haven't been staying on top of the site since November really. I finally got rid of the blank square that the Betrayers of Kamigawa artwork Terashi's Grasp should have filled last February. I had a lot of projects to fulfill since December, and now that they are mostly winding down, I hope to get back here more often.
I also linked some cards from various repeat lists on the third Magic page to their viewable webpages. (They won't link together in sequence using the text navigation buttons, so use your browsers "back" button to return to that main page.)
If you haven't been watching, Hidden City Games™ will be releasing a fantastic new game soon called Clout. The way it plays is truly unique, and the art (though compact) is really great. I contributed four pieces for the game and two packaging artworks for it as well. It's got some great buzz and many of the people originally responsible for making the game Magic:The Gathering© are involved as well. It comes out in August (did I say June? Oops.) and I hope to have some of the art put up here after then.
5/14/05 --I will be attending the Saviors prerelease next weekend in New York and New Jersey. I'll be in Manhattan on Saturday the 21st and New Jersey on Sunday the 22nd. I'll be back with more information about the venues as it comes in, but hit the link above on the Wizards website for general locations.
UPDATE! Here are some links with more information about the two events:
New York: http://www.graymatterconventions.com/saviorsx/ny.html

New Jersey: http://www.graymatterconventions.com/saviorsx/nj.html
5/23/05 --I've updated the Saviors of Kamigawa pages, now that the prerelease events are finished. There are a few more promotional-type Magic cards listed here, although no pages with images are posted just yet.
5/31/05 --I temporarily directed the site to another space for a few days, since the server exceeded its bandwidth this month (a first!). I put the notice on the "foyer" webpage (www.marktedin.com), but hardly anyone visited so it was probably missed. If you ever have problems with the website again, just head for its clone, which is located at:
http://tedinmark2.home.mindspring.com/Home.html
7/21/05 --I haven't been by in a while, but here's a sneak preview (at the Wizards website, listed as #7) of one of my cards that will be showing up next weekend for 9th Edition. Here's also a link to where it will show up on one of my "Art" pages. It's not live, but getting there.
7/22/05 --I will be at Olympic Cards & Comics in Lacey, Washington next Friday (29th) to sign cards for the 9th Edition pre-release weekend. I don't have all the details yet, but if you have questions, give the store a call at (360) 459-7721, or check out their website.
I also updated the Necro-Impotence page from Unhinged today. It's got a picture now.
7/23/05 --I just updated the Fireball 2 page, a card that was released as an OP promotional event item this year, and is not featured in the regular expansion sets.
I also enlarged the Oni of Wild Places artwork so a little more detail can be seen on its page.
Since the Clout: Fantasy© game has previewed some of the chips around the web, I've added a page that shows the Hobgoblin Captain original artwork uncropped and much larger. I've also added a Clout page to the Art List here. More artwork will premiere later next month.
7/25/05 --The 9th Edition spoiler list just came out. The name of the new card is called Temporal Adept. (The two other cards are repeats from 8th Edition.) I still haven't put up a page for it, but soon.
7/26/05 --The Temporal Adept page is now live.
By the way, if you'd like to ask me questions about anything in general, I visit the Wizards of the Coast™ message boards occasionally. In the folder concerning art and artist-related issues, I have a thread where I can answer questions and whatnot. Feel free to drop on by!
http://boards1.wizards.com/showthread.php?t=278349&page=1
7/29/05 --The Legends pages are now finished and corrected. For the longest time I had Johan confused with Lord Magnus and never caught it. Thanks to notsofasteddie over at the boards for pointing out the problem.
I still don't know exactly what time I'll be showing up at the event over at Olympic Cards & Comics in Lacey today. I think I was expected to come around 6pm, so I'll probably try to show up between 5 and 6. Again, if you have questions, give the store a call at (360) 459-7721, or check out their website.
P.S. Their website says that my appearance is on the 28th. That is an error. I will be there today (Friday) the 29th.
8/13/05 --After a long absence, I will be attending GenCon™ next week in Indianapolis. Although I won't be involved with the artshow nor do I know what my official schedule will be just yet, I will likely be seen at the Hidden City Games™ booth from time to time. I'll post more information as it comes in.
I've updated the Clout: Fantasy© pages to reflect the actual titles of the chips for the first release.
8/18/05 --Well, it took a few days, but we finally made it to Indianapolis (we did it the hard way and drove). A few updates: Hidden City Games™ itself doesn't have a booth or table, but Alderac Entertainment Group (AEG) does. It's doing all the distribution work, so that's where I would be in theory.
However, since the Clout game only has three demo tables, we decided that I should instead make appearances at the TCG Exhibit Hall G to coincide with the "army building clinic" and "booster draft" demos. It's too late today, but at 11:00am and again at 2:00pm on Friday I'll set up a small area in case folks would like to get stuff signed. If it goes well, I'll be doing the same thing on Saturday.
Three more chips are now featured on the Clout pages. All four artworks were cropped to one degree or the other for the game.
8/19/05 --I put up the packaging pieces on the Clout: Fantasy page. They're a little easier to see, especially the digital Elves vs. Undead piece, which printed up a bit dark.
Today was pretty slow at GenCon™, but considering there was no advertising that I was there today to sign stuff for people, it wasn't surprising. Saturday's the big day for the convention, so hopefully word will get around that I'm there. I don't have any thing to sell, but I'm looking forward to meeting with more people than today. I'm not limited to Clout, bring CCG cards if you'd like!
8/30/05 --Sorry for the hiccup today, the webpage exceeded its bandwidth again, so you'll probably be reading this message from the backup site until Thursday when everything resets. If you experience any broken links or missing pages, please be patient until then because I know the main version of the site works better.
9/4/05 --I don't know why the main site hasn't "reset" as it's supposed to do at the beginning of the month. Keep coming to this backup address until I get the problem resolved with the ISP. Thanks!
9/14/05 --The main website is back up! Again, if you ever have any problems accessing the site near the end of a busy month and my domain goes "overquota", just go to the start page, www.marktedin.com and you can find the address of the backup site: tedinmark2.home.mindspring.com/Home.html.
10/4/05 --The Ravnica: City of Guilds pages are now up!
10/14/05 --There's some new Dungeons and Dragons art, completed a few months back, now at the Wizards™ D&D website. There's an art gallery page for the new release "Magic of Eberron". All the pictures were painted digitally. Direct links to the larger pictures are below:
Khyber Trap, Perception Seed, Husk of Infinite Worlds, New Weapons, Other Gear
11/23/05 --I will be making an appearance at the Magic:The Gathering© 2005 Worlds Championship next week in Yokohama, Japan along with Terese Nielsen. For more information hit the Wizards website information page (www.wizards.com/default.asp?x=events/magic/worlds). Check out the picture of the sail-shaped hotel I'll be staying at!
I don't know what my exact schedule will be, but based on my travel, I will probably be making appearances for signing Thursday through the early part of Sunday. I hope to see some of you there!
Happy Thankgiving!
2/09/06 --Merry Christmas, Happy Hanukkah, Kwanzaa, New Year's and all that. As you've probably figured out, I didn't do any cards for Magic: The Gathering's© Ravnica: Guildpact set. Not for any ominous reason, mind you. My work shedule got very tight and I concentrated on other deadlines instead, including some upcoming Magic work as well.
I've updated the list of promotional cards I've done over the years. Not many have images yet (still hunting some of them down), but at least the list is accurate now.
2/11/06 --I just got a message from my website host that my site has exceeded the 80% traffic mark already. And it's only the eleventh! ;) There was an unusual spike in traffic on Wednesday so it looks like the main site will go down pretty soon. Remember, if you have problems with this site, use the backup mirror site or just bookmark the "foyer" page www.marktedin.com instead to get there.
I've also updated the second Magic card page to denote the cardsets I didn't contribute to back in 96-98.
2/15/06 --Well, the website dropped out only halfway through the month, so hopefully you're reading this on the backup mirror site anyway. I'm going to let the main site stay down for two more weeks and let it reset on its own. I'll have to deal with the increased traffic more creatively in the future, so please bear with the current dropout.
3/02/06 --I finally got that spacing problem fixed with the preview .gif boxes on the Magic Art List pages. It took a closer look at the HTML to fix the problem, which made the boxes "clump together" badly with some browsers. They resize much more smoothly now. I also updated the Clout page to reflect the upcoming release of the Defenders of Undersea set this month. Since the Sea Hag artwork has shown up on the web as packaging art, I'll update it with a page of its own shortly.
3/08/06 --A link for the role-playing game Ramlar© from White Silver Publishing™ has been updated. The game will most likely premiere during GenCon 2006. Their page just went live so there's a few blank spots right now, but check it out. I'll post the art later as it becomes officially public.
3/19/06 --I will be attending one of Wizards of the Coast's™ Magic:The Gathering© Grand Prix events next weekend in Cardiff, UK (Saturday the 25th and Sunday the 26th). I'm really looking forward to seeing Wales and signing cards at the event. I don't have specific information about the venue just yet, but check out the Magic:TG webpage and root around the events schedule and there should be something mentioned there. I'll try to get more information posted as it comes in.
3/20/06 --Here is the link for the Magic Grand Prix schedules for the next couple of months. The specific page for the event at the Cardiff International Arena this next weekend is here.
4/05/06 --I'll be attending a Magic:The Gathering© Dissension prerelease event on the weekend of April 22-23 at StarCityGames in Richmond, Virginia. More information about the event can be found at their site. They also put up a handy page that visually lists all my cards in one convenient place (573 with all variations). Thanks, guys!
I've also added another Art page to better accomodate recent and upcoming Magic sets.
4/11/06 --Wanna see something "grody"? New Dissension card preview!
4/22/06 --New Dissension cards are now live on the website!
4/28/06 --Two recent articles have explained why my old card Time Vault may soon be losing its "punch":
http://www.wizards.com/default.asp?x=mtgcom/askwizards/0406
http://www.starcitygames.com/php/news/article/11812.html
5/30/06 --I will be in Toronto this weekend (June 2-4) appearing at a Magic:The Gathering© Grand Prix event organized by Skyfox Games. The Toronto Congress Centre will hold the event. A WoTC-sponsored webpage with more details can be found here.
I'll be posting signing times when I get there, and I usually will sign at least 5-6 hours per day. However I'll probably be heading out for the airport mid-afternoon Sunday.
6/1/06 --Experiment Kraj is now a humongous Wallpaper of the Week at the WoTC site! Dang, I knew I should have spent more time detailing the sucker....
6/6/06 --Despite that many modern scholars have identified the true number of the beast as "611" instead of "666", I'd still like to mark this truly special day with a request to people with extreme personality disorders to not mess around. It's a number folks, and since nothing of note happened 100 years ago (or a score of times before that), it deserves to be ignored like any other day. Relax, and go watch an episode of "House" instead.
Beyond that, Experiment Kraj was mentioned again in a WoTC article yesterday explaining scale in Magic artwork. They've also shown a pretty decent scan of Celestial Ancient. The one on my page shows the correct value range (the artwork is a little darker than how it was printed), but the one in the article shows better the greenish-blue tones that my scanner doesn't capture that well.
7/11/06 --Going to GENCON™!!! This year I will be making the sojourn to the annual Indianapolis game fair on August 9-13, courtesy of White Silver Publishing™, publishers of the upcoming Ramlar© game. There will be ample prints available, as well as artist proof cards and maybe a collection of original art to show. A thanks goes out to John Prescott for making the trip possible this year.
On the White Silver Publishing™ site, there is a mention of a collaborative piece that Larry Elmore, Ron Spencer, Jennifer Meyer, James Ryman, Kevin Crossley and I have worked on. It will be presented as a prize to a lucky raffle ticket holder at DragonCon this fall; the tickets are available now to benefit Children's Make a Wish Foundation. Go to my Ramlar© page for a closer look.
You may have noticed that I haven't done anything for Magic:The Gathering's© Coldsnap. No worries, scheduling got tight and I was unavailable to work on the set. My work will be featured in Time Spiral, due out in October.
7/13/06 --This is a little last minute, but I just agreed to head out to the St. Louis Magic: The Gathering© Grand Prix event next weekend, July 21-23. There is more information about the event at the Wizards of the Coast™ site and at www.moyevents.com. No concrete details yet about the appearance, but I'll be doing the usual signing of cards and selling of prints and other stuff on Saturday only.
7/18/06 --There's now a much larger view of the Raffle Montage piece that's available to benefit the Children's Make a Wish Foundation. The webpage at the White Silver Publishing has a write-up at this link.
7/23/06 --The main site is down because of overactivity again, but the backup site is still working. You've probably figured that out anyway since you're here.
There's a new article about the Forgotten Ancient on the WoTC website. It's mostly about how I made a visual connection between that image and the Celestial Ancient that came later. The sketch for that card is also featured there.
7/26/06 --I've slimmed down the News section and put most of it on an archive page reorganized in chronological order.
8/2/06 --White Silver Publishing™ has published the timeslots when I'll be at their booth next week at GenCon™:
Thursday: 10am-12pm, 1pm-4pm
Friday: 12pm-4pm
Saturday: 10am-12pm, 1pm-4pm
Sunday: 10am-1pm
Other artists times can be found at this link.
8/8/06 --Hey, whattya know...I do have a card in Coldsnap! Not new art though. It's Deathspark from the Alliances set about ten years ago. I still don't have a decent scan yet of the artwork, but you can find a small picture here. I hope to see some of you at GenCon™ Thursday!
8/16/06 --Some old cards are making an appearance again at the Wizards™ website. Lord of the Pit from the original release of Magic© and Necropotence from Ice Age.
8/24/06 --So there's been more than a few images floating about the web that were shot at the Wizards of the Coast™ booth during GenCon™ 2006. They were described as "concept art" for the upcoming Time Spiral set. Now I can't divulge how the images are going to be used or what they are, but since they've seen the light of day I might as well give you a better look:
Also, I've updated the art on the Clout© page to reflect the most recent two sets, Defenders of Undersea and Redbeard's Revenge.
8/25/06 --Well, I'm switching the website to a new location, so I may have to go offline for a few hours. I'm thinking that after this, the two direct locations "tedinmark.home.mindspring.com/Home.html" and "tedinmark2.home.mindspring.com/Home.html" will probably go dark. I'm getting direct access and hosting control over www.marktedin.com in a few minutes as I switch routing over to the new server. Please bear with me as the website goes dark today. The main page will still be www.marktedin.com.
8/26/06 --Okay, the new website is now located at the www.marktedin.com domain and I've updated all the links hopefully. Lotsa room here and hopefully no more blackouts for a very long time!
I'm keepting the prefab portal page for now but will probably change it later. I learned that upper-case letters in .html URLS were a big no-no, it causes problems when manually typing in case-senstitive words. Lotsa broken links. Now it seems to be working fine. Please redirect all links to this site if you see any difference. The old URLS won't be updated with new information and will be taken down within the week. If you have any problems with the site on the new server, just drop me a line!
8/31/06 --Good news! I finally have PRINTS for sale over the website! Please use the Store links around the website (it will open up in a new window) to check them out. I'm using PayPal™ as the preferred method of payment.
The nineteen images also have links on each of their corresponding artlist pages.
9/5/06 --There's another article at WoTC's Magic:The Gathering© website about Time Spiral. Specifically, a couple of previews of upcoming art are shown, including a sketch of the "Mystery Art" I previewed last week at my site.
9/9/06 --I've added a little more information on my Home page concerning "International Reply Coupons". They insure that people outside North America can get their cards signed and returned without trying to locate U.S. postage for the return envelope. I've added a Wikipedia™ information link and a picture of what the current coupons look like.
9/13/06 --Another Time Spiral card from the Magic game has been revealed, "Endrek Sahr, Master Breeder". I'll put up a preview page soon that gives a little more detail. Until then, enjoy the preview at the Wizards site.
There's also some new Dungeons and Dragons art now being previewed at the Wizards™ D&D website. There's an art gallery page for the new release "Faiths of Eberron", which should be out this month. All the pictures were painted digitally. Direct links to the larger pictures are below:
Minor Rites, Off to War, Flayed Hand,
Symbol of the Becoming God, Assembling the God, Ceremonies for the Dead
9/20/06 --Go to this page to see another Time Spiral card revealed. Mine is the fourth picture down!
9/23/06 --Time Spiral is now officially previewed! I'll try to get the rest of the cards put up with their own preview pages today.
9/29/06 --Sorry it took so long, but the Time Spiral™ pages are now up with pictures. It took some time to hunt down the files and I got really busy this week. I'm still missing a good shot of the Tectonic Fiend, but should have it up soon.
10/4/06 --Since I haven't gotten off my lazy butt and updated the Apocalypse™ Magic pages, Wizards "Magic Arcana" article beat me to the punch with a larger view of Fervent Charge. Take a look!
10/9/06 --I've now updated the Tectonic Fiend page with a larger picture. Also, I didn't realize the Thrull Token card was previewed by Wizards in September. Here is the page with full-sized art.
10/22/06 --I will be attending an UnCon chat event this Wednesday @ 4pm Pacific time (7pm Eastern) for about an hour. Come on over and ask me questions! The url is at either www.wizards.com/uncon or http://wizo.wizards.com/uncon/pages/events.php?show=guests.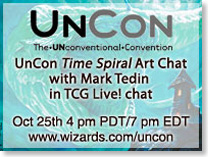 10/27/06 --Here's a transcript of this Wednesday's coffee and Fig Newton-fueled chat:
http://boards1.wizards.com/showpost.php?p=10462110&postcount=23
12/22/06 --Been a while since an update... I found out from a player that another card finally showed up on Magic Online™ (I can't play the game on my brand of computer, so it was hard to find out). Here's the Assembly Worker Token.
Home / News & Appearances / Art (Magic) / Facebook "Blog" / Resumé / Contact / Links / Credits / Store